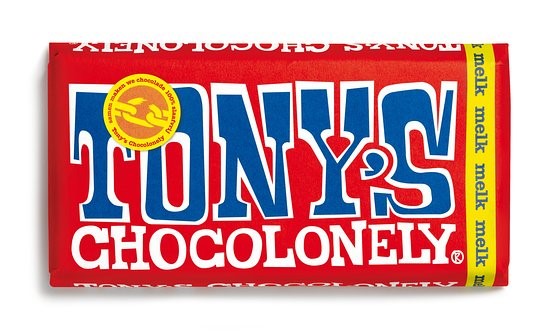 On a recent trip to Amsterdam with my 10 year old son, our most important mission was not to see the Night watchman in the Reich or amble through the Jewish quarter where Anne Frank wrote her diaries, but source as many different varieties of Tony's chocolonely we could get our hands on!
We did pack in some culture, but truth be told the highlight of our Dam day trip was scoring 6 different varieties of Tony's, not available here in Ireland!
It made me think – why do challenger brands have the ability to build so much affinity and such deep loyalty. What is it that gives this brand stand out in a cluttered and noisy category?  Is it taste, attitude, packaging or its hard anti-slavery stance, that sets it apart?.
What makes a brand a challenger brand?
Challenger brands shake things up. They change the rules. They get famous. And they do it with passion and smarts, not big budgets or easy answers. It's why they're some of the fastest growing companies on earth.
But what makes a challenger brand a challenger?
According to Adam Morgan, author of Eat the Big Fish and expert on all things challenger he says…"what makes a challenger is the mindset they bring. In particular it's about having an ambition that is significantly bigger than your conventional marketing resources, being prepared to do something bold and imaginative to close the gap between these two things".
It's primarily a mindset
So being a challenger is primarily a mindset. It's not about being number 2, 4 or 6 in the category, its more about how you think about the market and how you want to approach it differently.
And of course challenger brands challenge something. They challenge something about themselves – in terms of practises, behaviours, self-limiting and constraining mindsets (no coincidence that challenger brands boast stronger internal cultures and have a real clear sense of brand purpose v's non challenger brands) but importantly they challenge something in the world around them.
Indeed its rare that challenger brands are about challenging other brands, it's much more about challenging something – something in the category that doesn't belong there anymore. Something about the user experience that feels clunky and over complicated. Something about the way society works or talks that is out of step with progress. In short challenger brands put it up to the status quo and say enough!
In the case of Tony's chocolonelly its about demonstrating that good chocolate can be produced without discriminating workers in the process. It reminds us that the earths finite resources including people and the planet don't have to be squandered in the pursuit of profit.
But Tony's aren't unique. There's a refreshing injection of challenger rebrands redefining convention:
Lemonade is endeavouring to redefine the rules of conventional insurance. Add in brands like Metro-mile and Tencent Insurance and the world of insurance is getting a whole lot more interesting.
Revolut is a fintech redefining retail banking. With a tag line Beyond Banking it pretty much does what it says on the tin.
Estrella Damm – one of the world's fastest growing beer brands is testament to the nations love of upmarket Mediterranean lager and also the diversity and fragmentation emerging in the alcohol category.
What's clear is that understanding the central challenge gives each of these challenger's real strategic clarity – clarity on their positioning, on their culture, and on their communications behaviour.
Some myths about challenger brands
There are lots of myths about challenger brands that are both untrue and at times unhelpful:
Being a challenger brand is more default than design. Not true.
Challenger brands are not for the faint hearted. And while they are hugely exciting places to work and exciting places to be part of, they require a lot of emotional energy and mental smarts. These brands aren't afraid to dial up the dramatic, do things that get them noticed, be brave, provocative and relentlessly committed to their end goal. These are cultures and organisations built on action and not pure words.
Being a challenger is the preserve of start-ups .Again not true. Some long established companies over 100 years old have adopted a challenger mindset and culture and reaped the rewards.
Challenger brands outgrow their challenger origins. Again I disagree. Look at Richard Branson and Virgin and its continuous ability to deliver on its core brand purpose of "changing the game for good" that keeps them relevant, zeitgeisty, and disruptive in categories where the status quo has often constrained progress.
Any brand can be a challenger brand
In reality any brand can be a challenger brand. It's not the preserve of new brands on the block, or start- ups. Well established brands can and do often reignite their inner challenger. It takes the right mindset,  ambition bigger than a company's marketing resources and a purpose and a commitment to progress that supersedes the singular pursuit of profit.
If you can tick those boxes, you're well on your way!
Pinksalmon is a strategic growth marketing consultancy working with b2c and b2b brands to deliver effective marketing that drives growth . Drop me a mail on meadhbh@pinksalmon.ie to see how we can help.