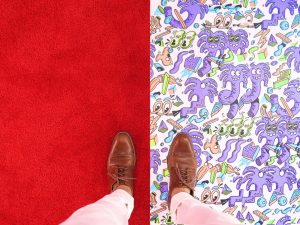 Last week I sat on an investor panel where super smart entrepreneurs presented their scaling start-ups, in the hope of securing additional funding. My role was to grill them on their sales and marketing plans before they were unleashed to the venture funds.
I was utterly blown away by their business ideas, their charisma and passion, the sacrifices they had made to get to where they got to. Their ability to understand how their offering met an untapped consumer need. The technology stack they were deploying to build agile operations and speed to market.
There was much to applaud.
But I did come away feeling  less impressed by their lack of thinking around marketing. And their inability to bottle all of their enthusiasm and passion into a well-honed brand narrative. Their marketing approach was thin and functional at times badly thought through and heavily reliant on rationale product messages. I was reminded by something Les Binet and Peter Field had said in their report "that humanity must not be lost in a tech obsessed world". Full report here https://themarketingpractice.com/the-long-and-short-of-b2b-marketing/
It made me think – why b2b brands need to market more like consumer brands?
So often B2B marketing is seen as the poor relation of consumer marketing, yet the two have a lot more in common than most people think.  It's a fallacy to believe that businesspeople park their emotions and personality when they come to work. In fact, the way people interact with B2B brands is incredibly similar to how they engage with B2C brands. This means creativity, storytelling and long-term brand building are just as important as value proposition, product features and price to break through the noise and drive real business value.
According to Binet and Field, "There are huge similarities between B2B and B2C when it comes to brand but many B2B marketers need to revise their approach," says Field. "Brands need a creative storytelling element because it is not enough to rely solely on rational product messaging. There has to be clear differentiation and a narrative that taps into business buyers' emotions."
People buy from people so its crucial b2b brands can find their narrative hook.
So if one area that does need to change is that B2B marketers need to become more confident about sharing their stories and differentiating themselves what other areas can b2b marketers learn from their b2c counterparts?.
Understanding Target Audiences:
Honing in specifically on particular job titles made sense when one clear decision maker was responsible for key decision making. In reality diversity in reach is something we all need to be conscious off because increasingly there are multiple stakeholders responsible for decision making.  Always on marketing activity across multiple channels targeting different profiles of buyers and influencers is critical given shifting buying behaviours. Target audiences must move beyond simple job titles.
Balancing short term sales metrics with long term brand building
There is no better tool for driving growth than brand building. Equally the pressure to deliver short-term sales must be balanced with the importance of growing sales through relationship building, customer loyalty and brand building – which is a longer term play. Metrics such as awareness, purchase consideration, new business enquiries, acceleration of a sales pipeline conversion can and do prove how marketing activity drives conversion at a high rate to revenue.
Embedding customer experience excellence.
Increasingly business today is won or lost based on the quality of the customer experience and that doesn't matter whether you are in the consumer business or the b2b space. Industries within b2b which are leading the way are the ones investing in saving time for customers and simplifying the experience- across all customer journeys and across all access points.
Centralising data to draw insight.
Businesses can be awash with data. Never before has it been so important to be able to identify opportunities to collapse data in to one centralised area and use it to draw insight from. Not only does this ensure smart use of data – it also empowers marketers to have more ownership and accountability for their end to end marketing activity.
Dismantling silos
The impenetrable distribution of responsibilities, and in particular the subordination of marketing to sales or other functions – often common in the B2B sector, prevent agile working, and the rapid development of new ideas and approaches that will drive strategic growth. Marketing can no longer be seen as a role to be filled by an intern or a social media lead – it must move up the organisational value chain.
Learn from archetypes
While every industry might not be the same, there are archetypes. Certain industries share common characteristics. Telecommunications, media, energy and water are all value-driven, experience-based sectors with many similar challenges. Increasingly companies should look at each other for examples of what works in their own industries and borrow learnings.
To conclude, people buy from people and emotionally engage in the same way as when they're making consumer choices. Finding your brand narrative hook is a really good first step to building differentiation and tapping into business buyers' emotions. It's the same playing pitch, so just go out and play your natural game.
Pink salmon is a strategic growth marketing agency, working to build and transform brands in the b2c and b2b space.  We help create and refresh brands, build strategies and plans to turbo charge growth and embed winning internal cultures.