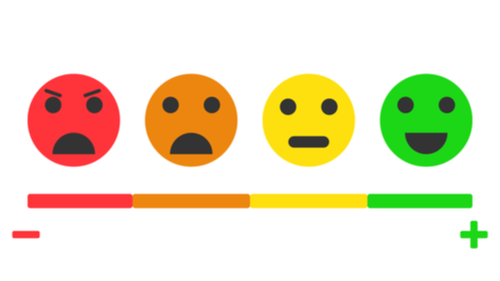 According to a recent study by Frost & Sullivan, by 2020 customer experience is expected to overtake price and product as the key brand differentiator with organisations globally loosing over €300billion each year due to poor customer experience.
Last week going through the airport, I found myself yet again hitting the big smiley face as I left for my gate. But I did wonder what exactly does that mean to the marketing team? What information can they glean from a smiley satisfied face? Am I validating my in store experience, my satisfaction with their pricing, how I felt about their staff, their product range, ease of shopping etc? How can one smiley face give any real granularity or insight into my overall shopping experience?
True it's a useful benchmark to track over time, but its crude and linear and doesn't really help the marketing teams understand what's ultimately driving my satisfaction or what levers they should pull to drive improvements in commercial performance.
According to a study conducted by the University of Technology Sydney Business School https://www.sciencedaily.com/releases/2019/08/190829115430.htm and published in the Journal of International Business Studies, customer satisfaction is now the most important marketing metric today, influencing over 53% of all marketing mix decisions.
"Despite trillions spent on marketing globally, managers have said consistently over the last couple of decades that one of the most difficult activities is demonstrating the impact of their marketing actions," says UTS Business School lead researcher Dr Ofer Mintz.
"We wanted to know what metrics managers are using globally, what drives metric use, including cultural influences, and how many metrics managers are using. In today's digital technology-intensive and data-rich environment, it is important for managers to know which metrics count.".
In conducting their study they looked at 4000 marketing plans across 1600 businesses operating in 16 countries and ranked 84 total metrics. After customer satisfaction, the two most popular metrics measured were brand awareness and ROI.
But is measuring customer satisfaction the right idea but essentially the wrong metric?
Customer satisfaction, as a metric, effectively seeks to measure how customers perceive or rate their experience. By investing in CX, companies believe that happy customers are loyal customers and will keep spending. But there are many who argue that there is a lack of empirical evidence to support this thinking.
Indeed  Bryon Sharpe in How brands grow would argue light and habitual users are a better bet than loyal existing customers. And Sharpe is not the only one challenging to this way of thinking.
Going along with the belief that customer experience is a lead indicator of future business performance, I still wonder is it the right financial metric to measure and does it really help drive competitiveness?
One big challenge with the use of customer satisfaction as a decision-driving metric is that there is no standard definition for what customer satisfaction is. Different organisations measure it differently, and even using something like NPS, drivers can and do change.
The relationship between Customer Lifetime Value and NPS
Leveraging quantitative data tracking, NPS (net promoter score) can be correlated back to revenue but how much does it correlate to customer lifetime value?
Because customer lifetime value, which aims to measure the total value of a customer to a business over the entirety of the customer relationship, is in many cases a better metric.  It aligns both cx and long term results.
When they talk about customer experience, should they not be talking about CLV. Is it not a more worthy metric to chase?
The case for measuring Customer Lifetime Value
In reality measuring customer lifetime value can be tricky- this might explain why companies using it is relatively low. In Telco's, and Utility companies, where contracts can last for anything from 12 months to an eternity and churn is the leaky bucket that negatively impacts growth, customer lifetime value is tracked and reported on a weekly basis and is a key metric of success – both in the short term and the long term.
I am all for great customer experiences. In an increasingly commoditised world, service can be a real brand differentiator. But companies keen to use customer satisfaction as a key business metric should consider how best it can be correlated to revenue and long term growth.
And maybe consider CLV as the more robust metric?
To find out how we can help deliver effective and creative marketing for your organisation, why not drop me a mail on meadhbh@pinksalmon.ie.